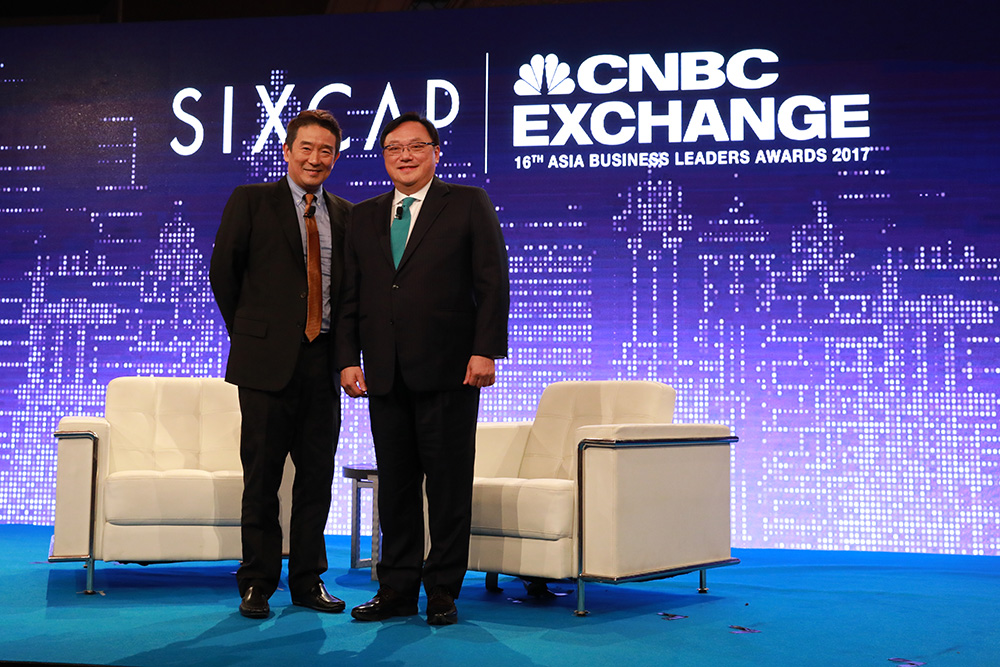 16 Aug

SIXCAP: Fintech companies should partner traditional institutions to empower Indonesia's unbanked

In the second of a three-part CNBC Exchange series by CNBC, SIXCAP's Patrick Teng shared his insights with award-winning CNBC anchor Martin Soong on how fintech will help propel Indonesia's economic growth. A panel of four leading figures in Indonesia's banking and investment scene were also present to discuss the challenges and opportunities Indonesia's banks face with the rise of fintech, and its target to provide 75% of its population with financial services by 2019.

'The purpose of fintech is not to replace traditional banks,' SIXCAP Founder, Chairman and Chief Dealer Patrick Teng said at the second installment of the CNBC Exchange series in Jakarta. 'Instead, it should aim to harness partnerships with traditional institutions to create mass accessibility and connectivity to financial services.' Teng was speaking at the event in a live interview with award-winning CNBC anchor Martin Soong.

His remarks set the tone for the succeeding panel discussion between respected bankers and entrepreneurs like Mr Kartika Wirjoatmodjo, President Director & CEO, Bank Mandiri, Ms. Vera Eve Lim, CFO & Director, Bank Danamon, Mr. Fauzi Ichsan, CEO and Commissioner, Board of Indonesia Deposit Insurance Corporation, and Mr. Adrian A. Gunadi, Co-Founder & CEO, Investree.

The conference comes at a time of crossroads for Indonesia's banking sector, which is pegged to see a more optimistic outlook in 2017 after years of sluggish growth and weak commodity prices. Additionally, Indonesia's banks are faced with the challenge of reaching out to the country's 255 million people, of which only 27% have a bank account in a heavily cash-dependent economy. The rise of fintech startups are also competing with incumbent institutions in the consumer banking space, catalysing the need to innovate and rethink traditional banking strategies.

In the interview, Teng went on to share more about SIXCAP's collaboration with Universiti Gadjah Mada (UGM)'s Faculty of Medicine. Citing Indonesia's vast population of 255 million, 50% of which are youths and adults under 30, Teng identified a need to 'unleash' the economic potential of Indonesia's human capital by connecting them to resources that can empower them. In the realm of healthcare, this meant educating patients on managing conditions which required lifestyle changes, like diabetes.

With a large population spread over 17,000 islands, access and outreach were challenges that can only be overcome with the help of technology. In Teng's view, tele-medicine or mobile medicine was the best way forward for the future of Indonesia's healthcare industry.

Through platforms like SIXCAP innovation, thundr TV, patients could receive counselling, diagnosis and even treatment via livestream video with a 3-second delay. Urban hospitals could also conduct lectures for rural hospitals or medical students located in far-flung areas, allowing them to tune in, listen and participate like a live classroom session. This, as Teng declared, was 'the true democratization of knowledge', and one of the ways SIXCAP aimed to 'co-create with local partners to solve Indonesia's problems'.

This is the first of two articles covering SIXCAP at the CNBC Exchange: Jakarta. Stay tuned for the next one, featuring industry insights from the panel discussion with some of Indonesia's most respected bankers and entrepreneurs.